Do you know why brides have to apply mehndi before the big day? Mehndi is applied for positive spirits and good luck. So, today we have found the most unique and original mehndi designs for weddings that are fun to look at but also look drop-dead beautiful on brides.
Unique Mehndi Designs for Weddings
1. Latest Royal Bridal Mehndi Design: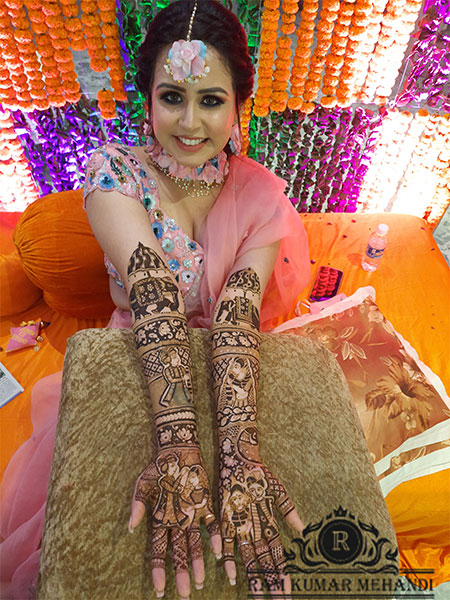 This wedding bridal mehndi design for hands here is inspired by the philosophy of a royal empire. Particularly the way the artist has portrayed the maharani and the king adorned with floral and peacock designs in the full-hand mehndi design are surely giving us the royal bride vibe!
2. Walk Down The Aisle Mehndi Design: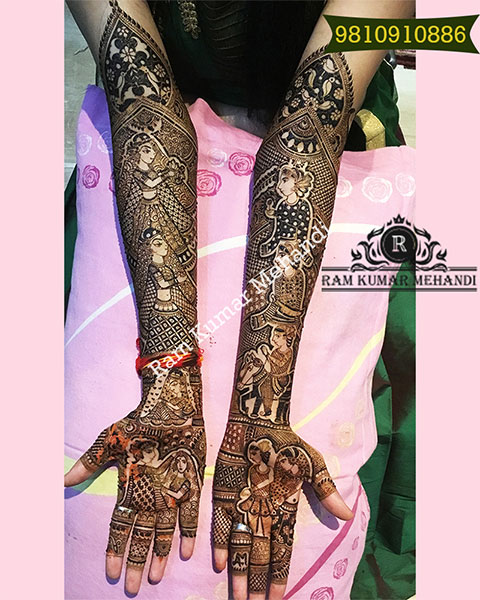 This exclusive bridal mehndi design captures your love story from an unforgettable date night to the proposal story and finally the wedding day. With neat and fabulous strokes, this bridal mehndi designs for full hands are a one-of-a-kind beauty. Wrap your front hands with grace with this spectacular 'walk down the aisle' inspired design that is married with the most lovely elements from the wedding decoration.
3. New Mehndi Design For Marriage: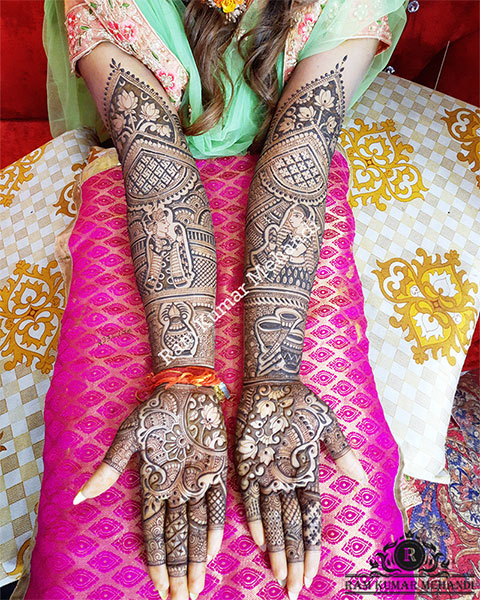 Searching for a traditional bridal mehndi design for full hands? Don't search further! With the bride and groom portrait engraved in the center of the palm, and royal elephants adding Indian charisma to this Dulhan mehndi design, this mehndi is a traditional mehndi design dream. Keep your bridal glimpse royal with this latest mehndi design for weddings.
Visit: backhand mehndi designs
4. A Game Of Cards Bridal Mehndi For Full Hands:
Beauty is in the particulars! A skilled bridal mehndi artist can draw inspiration from anything and everything beautiful and groovy under the sun. This wedding bridal mehndi design for full hands inspired by the deck of cards, especially by the royalty of our card games is the epitome of sophistication.
5. Latest Bridal Full And Backhand Mehndi Design:
Who doesn't love the henna design celebrities pulled for their bridal soiree? Of course, we all do love it! Apply this simple full-hand mehndi design and wrap your hands in the temptation of beautiful floral and fauna designs. The trace of Bollywood's favorite Raju Mehndiwala adds to the excellence of the henna design. Keep it modest and pretty and don't forget to write your lover's name on one of your fingers to make sure the name is noticeable and stands out effortlessly!
6. The Sindoor & Kanyadaan Mehndi Design:
Inspiration is taken from the two most important ceremonies of the wedding day, which marks a new phase in the bride's life. This fresh and latest full-hand bridal mehndi design depicts the sindoor daan in one hand, and the bride's vidaai ceremony in another. If you want a full front-hand mehndi personalized with your wedding details, this genuine depiction of wedding ceremonies can be a real inspiration for brides.
Visit: best mehndi designs for legs
7. The Varmala Ceremony Inspired Mehndi Design: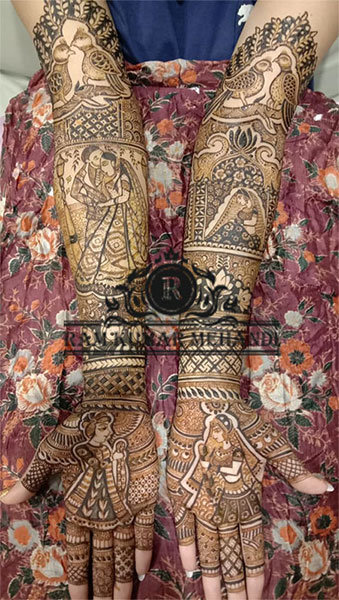 Go beyond the limits of your imagination and get the most classical and new mehndi design that covers full hands by creating the Varmala ceremony on your gorgeous palms. Choose this latest statement mehndi design for your wedding for your bridal hands and awe-inspiring your bridesmaids.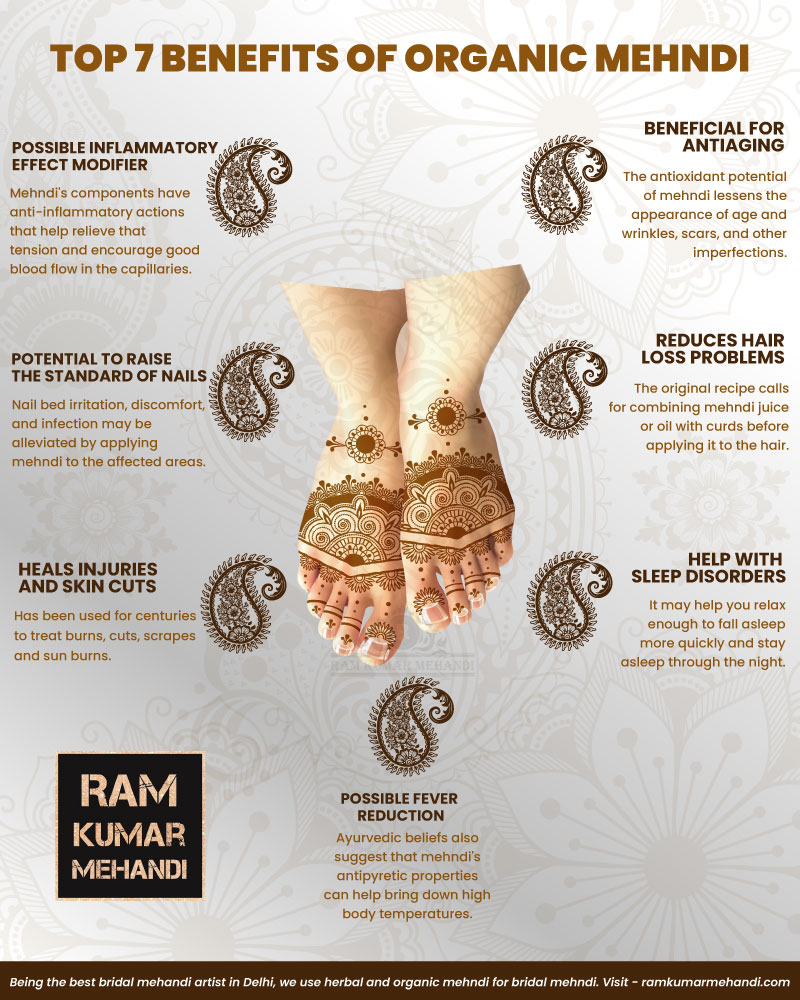 8. Bridal Mehndi With Lotus In Full Bloom: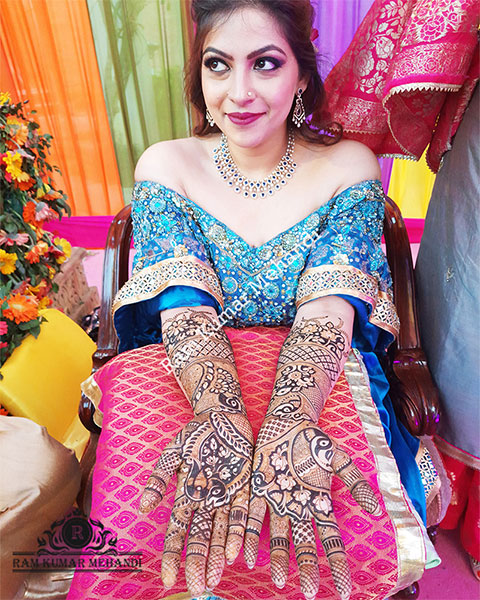 Here is a mehndi design beauty that wraps the full hand of every bride who loves everything ornate! Allow your mehndi artist to draw your favorite floral designs to your hands and let the fresh bloom of flowers add a breath of fresh air to your mehndi design for the wedding. This full-hand mehndi design is also an ideal fit for women who are getting ready for their first Karwa Chauth or Teej celebrations.
Visit: best finger mehndi designs
9. Bridal Mehndi Inspired By Your Wedding Look:
If your taste is more timeless, traditional mehndi designs for a bridal full hand with complicated patterns and customized bride and groom art in the center are for you. At your wedding, look for the source for your Mehandi artist and permit her to draw her magic on your palms.
10. Narrate Your Love Story With A Mehndi Design:
From the date of the proposal to the wonderful skyline of Indonesia and the picture of their four-pawed kid, this bride's latest stylish mehndi designs described their whole journey through her beautifully designed palms. No full-hand Mehndi design could be as flawlessly customized as this! If you are in the same boat as us here, let this bride's Mehndi inspire yours!
11. Portrait New Bridal Mehndi Design:
Here is a new bridal mehndi motif that we just can't get enough of! If you like to keep it modest but elegant, try acquiring inspiration from this portrait-inspired back mehndi design. This is a fabulous choice for minimalist brides as well. You could also pick this elegant new mehndi design for your Teej celebrations or Karwa Chauth.
12. Half And Half Bridal Mehndi Design:
Have your mehndi artist draw a pretty portrait of a blooming garden with royal peacocks in your full hands. Let the dainty design cover your hands in the gorgeousness of nature, that's all that it takes to accomplish a beautiful bridal mehndi design for full hands inspired by a majestic garden. You could also select this full-hand mehndi design for Karwa Chauth or Teej celebrations.
13. Wedding Ceremony Inspired Bridal Mehndi Design:
If you want the finest of the traditional world, pick a beautiful bridal mehndi design for full hands that provide evidence of your wedding saga with the most beautiful essentials of an Indian wedding comprising of a palki for the bride, a groom's grand elephant entry, and every traditional artist beloved – peacocks. This half-and-half wedding-inspired mehndi finishes a bride's mehndi design like no other!
Applying mehndi is a way of wishing the bride good health and fortune as she is going to enter a new phase of her life. And, in today's modern time, brides and mehndi artists have found innovative mehndi designs for weddings that are taking the internet by storm.
Why Ram Kumar Mehandi for your Wedding Mehndi Designs? 
As the best Mehandi artist in Delhi, we always deliver a service of value. The designer bridal mehndi we provide helps in creating a better experience for customers. We have a wide variety of designs and the art is performed by professionals who are experts in this Mehandi art field. We assure to be a reliable bridal mehndi artist who takes extra care of each step of Mehandi.