Mehndi is one of the important parts of any celebration, whether it is Karvachauth or a wedding. From choosing a beautiful outfit to striking jewelry and your beautiful mehndi design, everything should be just perfect. Before picking some back hand mehndi designs, let us look into some basic and important tips: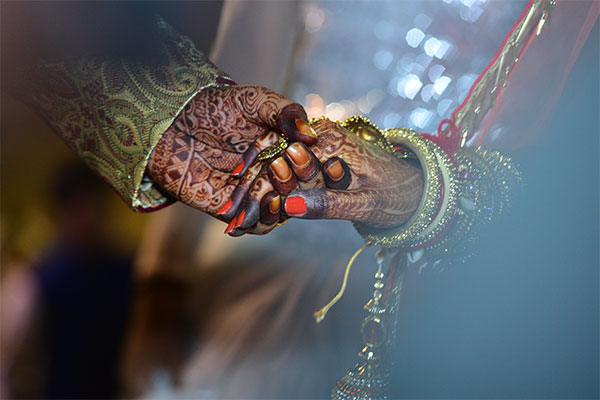 1. Size of your palm and fingers:
Not all designs can be drawn on your palms and fingers because of the size of your palm. due to this, enlarged designs can not be drawn on small palms and small designs won't look good on bigger palms. This same theory applies to fingers as well. Therefore, choosing an appropriate design according to the dimension of your hand is very important.
2. How Elaborate do you wish your Design should be:
The length of your design and style matters the most if you are a bride or a person attending your loved one's marriage. The extension of the design matters depending on your outfit, your wish, and the hand accessories you are wearing.
3. The Color of the Mehndi:
The best part of being idealistic is we are living at the peak of originality with the massive variety. There are various colors available such as green, brown, red, and white.
4. Contrasting with your outfit:
The outfit you are wearing should also be matching with mehndi design.
5. The artist you are choosing:
The bridal mehndi artist is the sole creator of your design; therefore, you need to be very particular with whom you are choosing and what their expertise is.
Back Hand Mehndi Designs:
1. Fusion Mehndi Design:
It's a lovely and simple yet pretty mehndi design that you can choose for any occasion or event. The square design in the center and bold strokes are stressing the design with flower and leaf ideas. You can also add diamonds to add a glittery effect to your mehndi design.
2. Mandala Back hand Mehndi Design: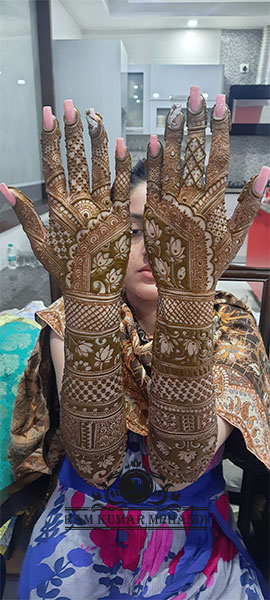 If you are in a confusion whether to go for florals, leaves, or some unique designs, then going with mandala designs is always handy. They never get old and depict a forever charm. You can go with a mandala design on the backhand or play with it with your choice of flower, leaves, or whatever you wish for.
Visit: best mehndi designs for legs
3. Gloves Back Hand Mehndi Design:
Mehndi artist in Delhi suggests, if you think that choosing cute and minimal designs is beyond grand, then this one is the best for you. This design gives a glove-like effect made with mehndi and will collect some compliments for you. It looks suitable and gives a nice finish with netted and floral prints.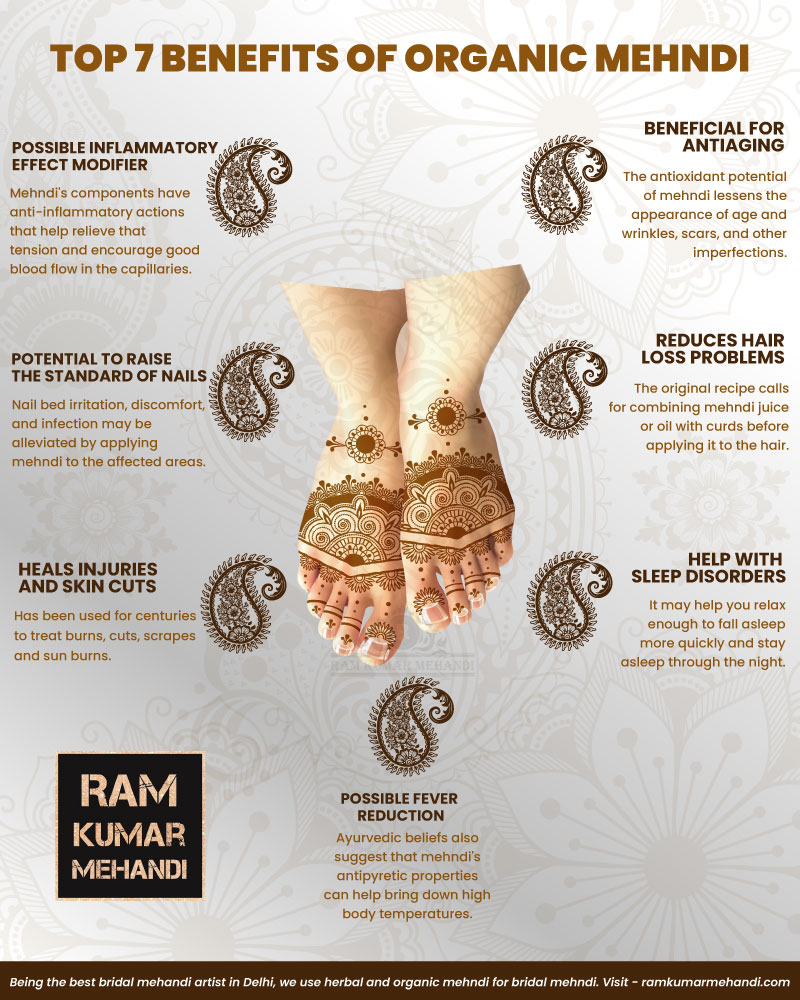 4. White Mehndi Design:
White mehndi is relatively a trend these days and looks good for a change. Some people won't agree with white mehndi as it is not considered auspicious, but yes you can try it for Diwali, your BFF's wedding, etc. You can wear a dark shade outfit so that the white mehndi highlights more.
5. Swirl Back Hand Mehndi Design:
These designs are not new, but definitely in trend. If made with bold strokes, this design is for sure going to catch everyone's attention.
Visit: best wedding mehndi designs
6. Floral Motifs Back Hand Mehndi Design:
It is a golden rule, to make anything beautiful, you just need to add flowers and see the magic. They look very artistic.
7. Unique Designs for Back Hand: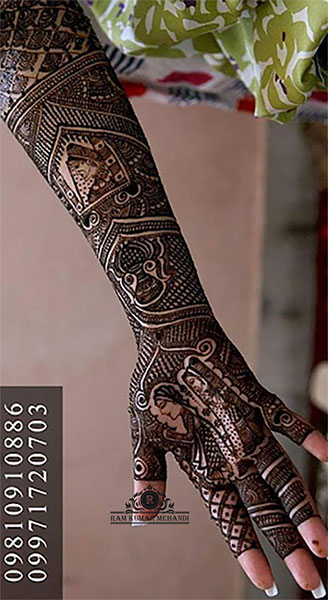 If you are bored of seeing the same old design on your friend, or family members, again and again, look for some unique designs available on the internet that will add a vibe to the artistic designs that can make anyone fall in love with them instantly.
8. Diyas in Back Hand Mehndi Design:
The string of diyas designs in the center of your beautiful mehndi is an absolute pick for any event. This is an out-of-the-box idea and certainly that people around are going to love and will compliment.
9. Leaves Back Hand Mehndi Design:
While flowers add beauty, leaves make the design look even more beautiful. You can cover the fingers with leaf designs or use them along the floral designs to enhance the design. It is surely the most loved and among the favorites.
10. Netted Back Hand Mehndi Design:
Netter designs are not something very latest but always look beautiful and charming to your mehndi design. Whether you cover the whole hand with netted design or just a corner, the charm of this design is beyond words.
11. Full Hand Mehndi Design:
Not everyone likes a similar kind of mehndi design, while some likes to keep it minimal, other want to cover the whole hand with various motifs. Whether you are wearing a heavy outfit or a lightweight lehenga, this type of design will perfectly match them.
Visit: beautiful dulhan mehndi designs
12. Peacock Back Hand Mehndi Designs: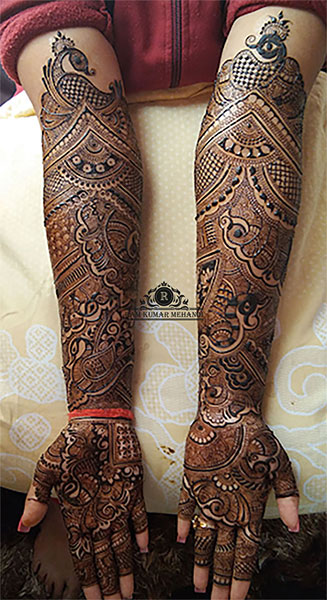 There are so many explanations why we love "tradition meets contemporary" mehndi designs. Several prints, motifs, elephants, and peacocks depict the Indian culture and couple portrait at the wedding, everything makes this designs a bang on!!
13. Finger Mehndi Designs:
Among many overdone and minimal designs, the love for a simple design on the fingers is perfect for someone who likes to keep it minimal and fuss-free. They look pretty and can be done in no time.
14. Jewelry Mehndi design:
Everyone's a fan of jewelry design mehndi that are very neat and pretty. You can apply it for any event and it will match all kinds of outfits such as lehengas, sarees, suits, or shararas. It can serve two purposes- a pretty design and a faux jewelry look.
Visit: traditional mehndi designs
Any event such as Karvachauth or a wedding is incomplete without mehndi done on your hands or legs (if you want). To help you choose some back hand mehndi designs listed above that are going to look stunning and complete your look.
Being the best mehandi artist in delhi, our mehndi designs are appreciated in delhi, india and rest of the world. We specialize in traditional as well as modern mehndi designs for past 35 years.
For bookings, contact us now!