Are you looking for some trendy leg mehndi designs? For celebrations like Diwali, Teej, and Karva Chauth, it is now popular to apply mehndi to the legs. For your foot, we have mehndi in a variety of patterns, from light and delicate to complicated and hefty. If you're a bride, you can choose modest and basic patterns for your feet while drawing more attention to your hands with very intricate and dense patterns. This will allow you to speed up the application of the mehndi as well as have some fun with your family members before your wedding. Okay! Let's get into the best mehndi designs for legs in this article!
Best Mehndi Designs for Legs by Ram Kumar Mehandi
Traditional Leg Mehndi Design:
Nothing compares to keeping your mehndi design conventional! The classic motifs carved in this mehndi design, which range from lotuses to elephants, are enticing others. Get the intricate traditional motifs and patterns painted on your hands by a bridal mehndi artist! And also, don't forget to wear a delicate anklet to bring out the best in your mehndi!
2. Mandala Mehndi Designs for Legs: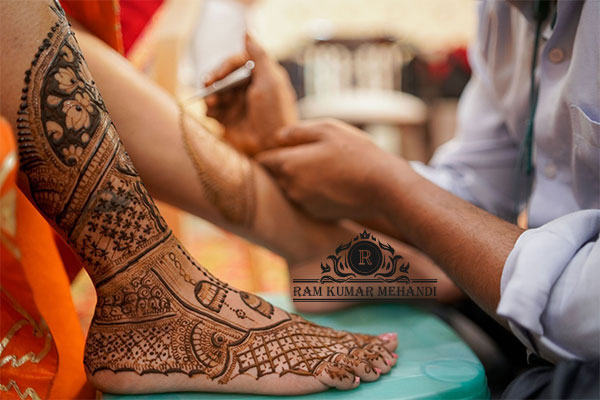 This is the only mehndi design you need to bookmark right away if you want your mehndi to be a combination of floral motifs, band patterns, and a mandala. We adore this clear and simple mehndi design because it isn't so garish that the jewelry will look out of place. Since some of us value toe rings, it's wonderful that one doesn't have to decide between the two for this perfect shot. We vouch for the fact that this is one of the most elegant mehndi designs you have ever seen!
Visit: designer bridal mehndi pattern
3. Anklet-Inspired Leg Mehndi Design
This leg mehndi pattern will be fashionable as far as jewelry-shaped mehndi is concerned! But this flower anklet-shaped simple foot mehndi design just demonstrates how lovely basic mehndi can be when it takes on the appearance of the jewelry. This mehndi design in the form of jewelry will be the star of the show!
4. Dotted Floral Leg Mehndi Design
Make a statement with a vibrant mehndi design on your feet! It's one of the most fashionable mehndi designs, featuring a lovely mandala in the center, dotted accents, and a lotus motif. The appearance of complexity is merely an illusion. In actuality, attracting attention by appearing trendy is very simple.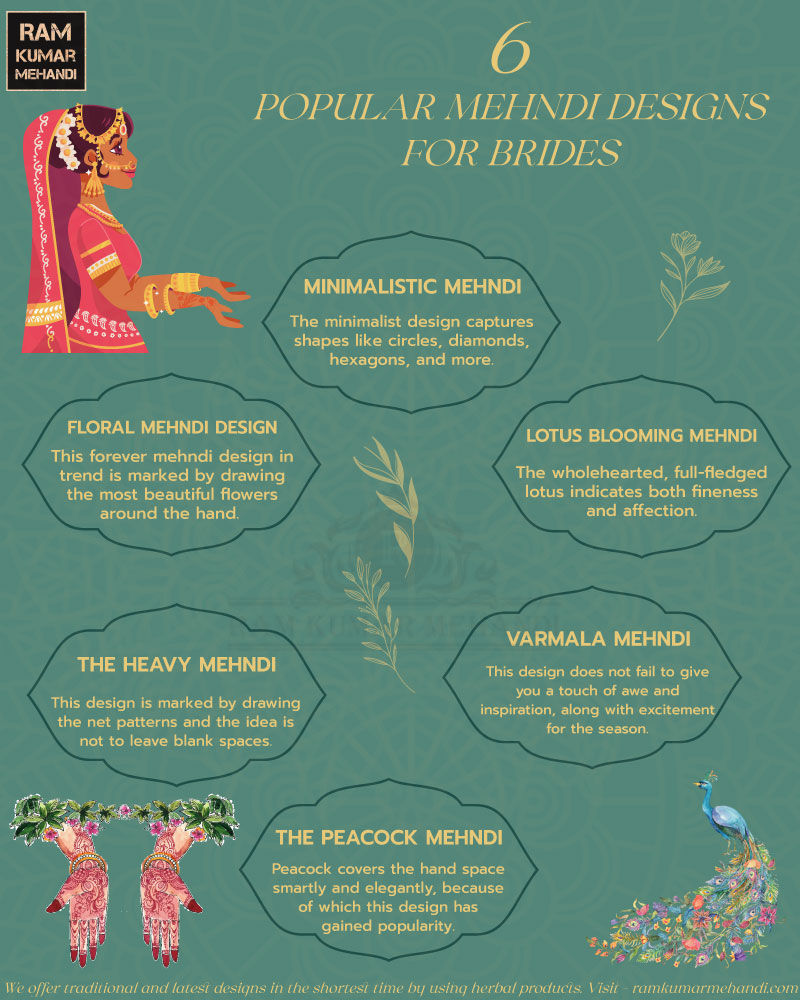 5. Jhumka Leg Mehndi Design
Do you want your basic mehndi designs to have a contemporary spin or additions? How about incorporating tiny cages within a mandala to produce a lovely pattern? Anyone with even a little henna design experience can master its simple elements and motifs.
6. Jaali & Lotus Leg Mehndi Design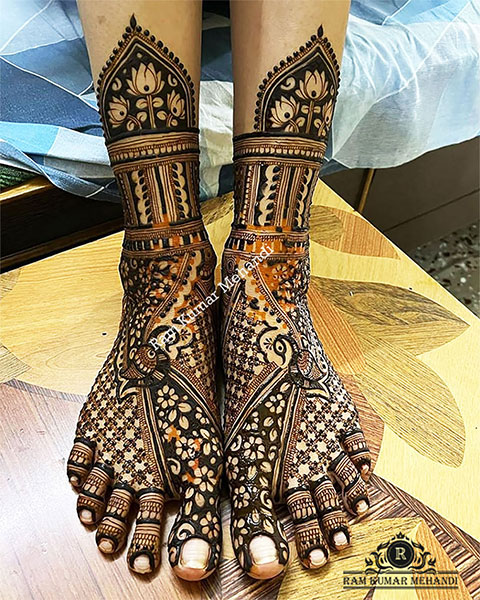 This is one of the most popular traditional mehndi designs. Today, most brides choose this design because of the more comprehensive effect it has on creativity and design. Those tiny leaves bring a traditional touch to this rather simple mehndi design. This mehndi design will captivate everyone with its overall style!
Visit: best finger mehndi designs
7. Animal & Bird Mehndi Designs for Legs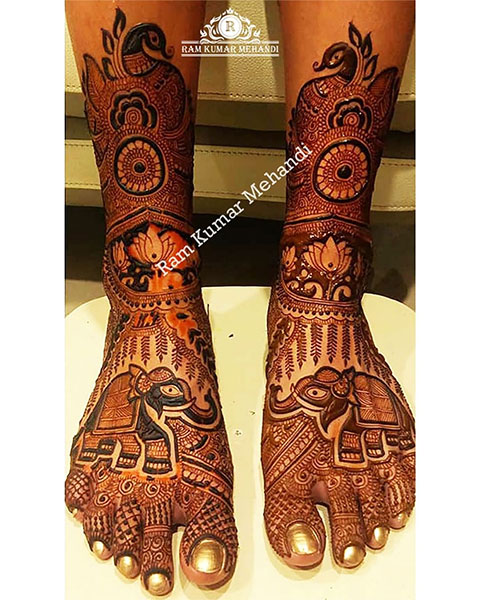 This clear and concise mehndi design is hitting all the right notes, from the florals to the swirls to the cute animals. And when you have a henna design this beautiful, you should take the time to show it off to the fullest! This quick and easy mehndi design has its pool of adorable mammals, so you can bring your own Zootopia moment to life!
8. Minimalistic Leg Mehndi Design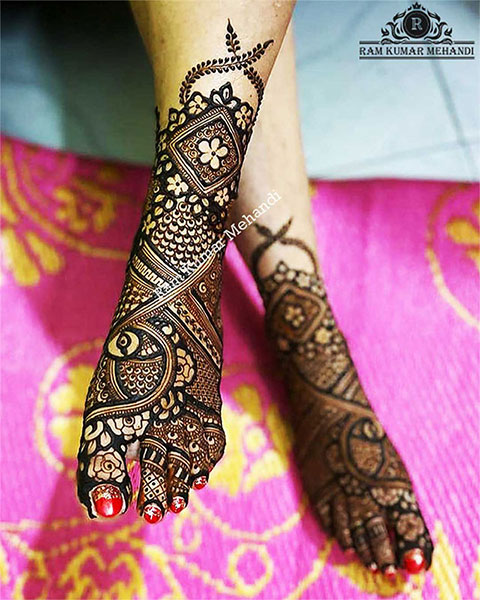 Consider getting a mehndi pattern like this one if you're a woman who is constantly on the go! This is very simple and minimalist, so ladies, if you prefer patterns that are widely spaced apart, now is your chance! The unconventional twist on the traditional vine pattern is what we like best about this realistic mehndi design. This is how you set yourself distinct from the competition!
9. Heavy & Simple Floral Leg Mehndi Design
This mehndi is the ideal illustration of how traditional meets modern can be quirky while still adhering to traditions. Everything is perfect, quite literally, from the rose flower pattern to the crown that is designed on her shin! This would be the best option for you if you want a fuller design rather than something that is overly minimalistic. This straightforward mehndi design is intricate without sacrificing its allure. Therefore, despite the pattern's general density, this design still has a pleasing aesthetic feel to it. Being the best mehandi artist in Delhi for more than 30 years we can create one for you!
10. BOHO White Leg Mehndi Design
Bridal mehndi designs have remained unaffected by the BOHO trend, which is becoming more and more popular! The Boho mehndi designs are typically white, so we advise you to consider this elegant-looking, minimalist white mehndi design for your events!
Visit: bridesmaid mehndi designs
11. Shimmery Leg Mehndi Design
Everything appears a little bit more lovely because of the shimmer. This glittery leg mehndi design shines brightly and captures everyone's attention!
We hope you enjoyed reading our article on "Best Mehndi Designs for Legs." Don't forget to save these amazing, mind-blowing mehndi designs! Enjoy your function to the fullest! Thank you for your time! Bye-bye!
Why Ram Kumar for Your Bridal Mehndi? 
Working as a Bridal Mehndi Artist for more than 30 Years 
Guaranteed Dark Color and Long Lasting Mehndi 
Using Organic and Chemical Free Mehndi 
Famous for Offering Personalized and Custom Mehndi Designs 
Serving Clients In India and Outside India 
Reputation of Serving More than 1 Lakh Brides in India and Rest of the World. 
For bookings, contact us now!