The arena of bridal fashion over the years has become more in trend, but when it comes to grooms, there are hardly any ideas for men to apply their wedding mehndi designs. So let's explore the fashion world of men's wedding fashion more deeply and add more and more fun while framing these groom mehndi designs. And bring about a collection of men's wedding attire. You may have already seen some male-related marriage content being listed down in this blog. Traditional henna was thought to be used by both men and women, but over time, mehndi became more of a thing for women.
Top Royal Groom Mehndi Designs:
Simple Floral Mandala Mehndi Designs for Groom:
Trying simple mehndi designs for a groom makes a whole lot of sense if you are the not very experimental kind of man. Flowers offer a wide enough range when it comes to the idea of drawing and designing ideas. So you can't take inspiration from this floral mehndi mandala which rests on the middle of the palm or back of the hand for a highly classy appeal on the special wedding day. Flowers could be partly filled or even filled. The best part of these layouts is that it offers glare and glamour even to a simple design. 
Moroccan inspired Full Palm Mehndi Designs for Men:
Mehndi is a method of reflecting your happiness, and it is better when done elaborately in full hands. This print-style hand mehndi design for the groom is a perfect choice if you wish for something intricate yet don't want to veer into the female realm. Simple mehndi designs don't mean a loop in the center of palms with the bride and newlywed initials. If the groom is getting mehndi implied, then rock it in style with the latest henna picture. 
Visit: top mehndi designs for engagement
Circular Patterned Male Mehndi Designs:
Mehndi has a huge traditional significance in Indian weddings. Grooms residing in Asian countries have started to embrace mehndi designs in quirky styles for weddings and other special occasions, but male henna isn't still a widely accepted art. If you are a groom or brother of the groom who is looking for a subtle and soft texture design, showcase even the simple elegance of a circle design with a striped overlay. Grooms can try this mind-blowing design for both the front and back of their hands and add a series of dots to decorate fingers as well.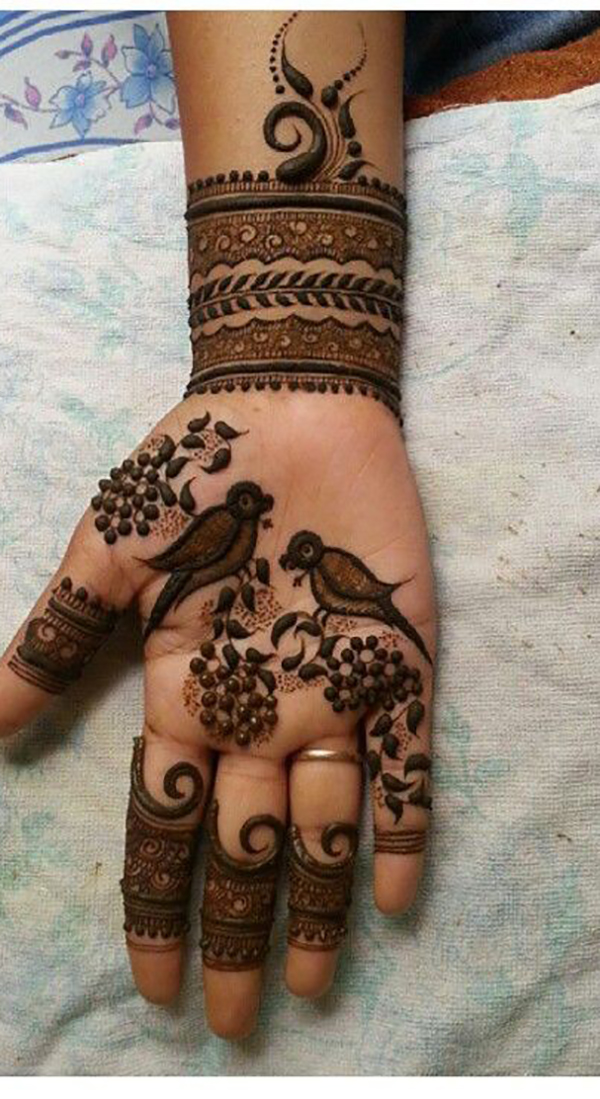 Minimal Heart Mehndi Designs for Groom:
Mehndi designs for the groom are viewing a lot of new trends, and the one very rampant trend is attracting mehndi on just half of the hand, leaving the rest of it should be left blank and plain. This geometric patterned thick line henna is simple yet unique. The addition of three simple hearts gives it a romantic touch, perfect for an occasion like a wedding. These patterns are very well designed by Mehandi Artist in Delhi. These heart shapes vary from simple small hearts too wide enough hearts. 
Geometric patterned Palm Mehndi Designs for Groom:
The best part is that even grooms can now flaunt their stylish mehndi designs, which are decent and manly as well. These designs do not have a traditional high touch and thereby do not give a totally elegant look for men. The Perfect geometric and circular patterns have been deemed a blend with have of men. The two aspects of modernity and tradition go hand in hand. The leafy patterns, in turn, add a beautiful look to the complete hand. So are you ready to give a touch of elegance with simple but classy patterns of filled triangles and squares on the palm?
Visit: unique mehndi designs to apply
Simple checkered circle and dots mehndi designs for male
The circle mandala designs are one of the most popular mehndi patterns as they are very easy to craft and, at the same time, are crafted quickly enough. Even men can try diversions of this design as its makes for a gorgeous yet minimal male mehndi design. You don't have to hire a mehndi artist for a design like this, just swap the normal round tikka for a checkered one and finish it with numerous dots around it.
Even today, in many parts of India, it is Hindu custom for grooms to be a part of the ceremonies actively. Mehndi designs were applied to their palms. While brides prefer their mehndi to be elaborate, covering the entire length of both the front and back of their hands, groom mehndi designs are more geometric and straightforward patterns mainly covering just their palms. Therefore, in this circumstance, these wedding mehndi designs made from circular design comes in handy.
Conclusion
We are sure that these traditional and aesthetic groom mehndi designs help you better understand the choices and suitability of males. From geometric figures to in-depth classics, the options are many! 
Contact us for promising and stunning dark color for trendy and beautiful mehndi designs.