Henna is a traditional concept carried on by generations in different parts of the world. People and their culture view it to be a symbol of goodness, prosperity, and happiness. And besides everything, applying those unique mehndi designs is an awaited moment for many!
Let us explore some unique Mehndi designs: 
Arabic Mehandi Design: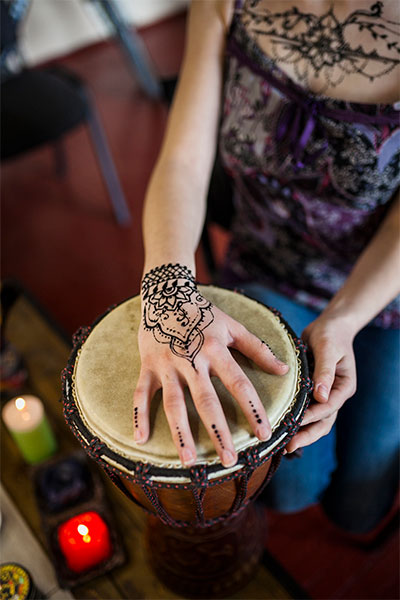 An Arabic mehndi design is marked by different free-flowing patterns. It includes the indulgence of some stylish classic mehndi elements of paisleys, florals, and leaves. Unlike the traditional wedding mehndi designs, Arabic mehndi is quite famous as it includes the setting up scattered and leaf spaces in the hands. It was originated in Persia and is common in Arab countries like Qatar, UAE, Bahrain, Oman and therefore it was named Arabic mehndi design.
An Arabic design is easy to create as it does not need many spaces. All that is needed is a touch of creativity, simple flowing patterns, and traditional elements. They aesthetically give a decent touch to one's overall look. Some Arabic designs can be crafted and drawn like bharwa mehndi The style of adding paisleys to this style, just adds up to the overall appearance. It makes the design more appealing. At times, Arabic Mehandi art covers only the palm of hands and is done without using paisleys. They are done just by adding a good enough tone with basic henna motifs. All that could be seen are leaves and floral patterns to make mehndi designs more fun.
Visit: top mehndi designs for engagement
2. Western-style Mehandi Design: 
Western culture has also adapted the Mehandi trend which is quite stylish and easy-going. Unlike Arabic and Indian styles, they have not linked the patterns to their culture. The idea is just to experience the fun and exuberant zeal of applying it on their hands and make it shine brighter!. However, the trend of these henna tattoos in western-style Mehandi is today getting immensely popular.
3. Pakistani Unique Mehandi Design: 
Pakistani Mehandi designs represent the values and traditions the people of Pakistan hold. They are a symbol of their culture and evidence of their morals. When we observe this mehndi pattern, we can see several beautiful leaf and flower designs. Besides this, there are mosques, mandala designs, domes, and paisley patterns. Paisley patterns refer to the paisley designs that became popular in the Westside in the 18th and 19th centuries, popular at the time of the reign of the Mughal Empire. They were replicated and spread locally in the form of shawl designs also. Pakistani mehndi designs are highly intricate to frame and draw on hands. It is a challenge due to the bolder outlines it has and the fact that it gives a stunning appearance to female hands on almost every special occasion.

4. African Mehandi Design:
Henna painting is an ancient form of art that is still practiced in Africa. The artist in this style adds vibrance to the hands and feet of the individual applying Mehandi. African style differs from Indian design. African henna is simple and does not uses florals and leaves. They are made up of simple shapes yet are amazing in their way. It is applied by both males and females during events of marriage or other special occasions. The designs are believed to bring good luck, charm, and abundance of wealth in the life of the wearer. At times, African Mehandi design is composed of just across which is added by certain lines to intensify the look.
5. Indian Mehandi Design:
Indian style mehndi designs are very popular among people. They have a touch of traditionality and a mix of personalization, making the overall design attractive. I still remember the days when I was 6 years old and used to ask my dad to get me a Mehandi on both hands. That was fun and I flaunted it now and then. No matter what age group you belong to, Indian mehndi designs always have something to offer in their unique and heartwarming ways. From the front to back and for both arms and legs, there are some amazing patterns in Indian Mehandi design. Also, we see some prominent patterns, that are florals, chequered dots, trails, and other traditional patterns.
Endnote: 
The craze of applying Mehndi has prevailed in not only Indian but western culture also. On occasions of Diwali, different types of fasts like (Ahoi, Karvachauth), ladies have indulged themselves in the practice of applying Mehandi. Mehndi is believed to carry a certain coolness in its composition which further keeps the person in a calm and composed state. So, what are you waiting for? Ramkumar mehndi, being the best Mehandi Artist in Delhi is capable enough to get you the right style to add to your grace with these unique mehndi designs.