One of the most vital aspects of any Indian wedding is the application of henna or commonly known as mehndi on both hands and legs in numerous designs. This has been an age-old tradition and is popular in other Asian countries like Pakistan, Bangladesh, Turkey, and Malaysia. The henna is applied to the hands in a wide range of intricate and intriguing designs that can astound anyone. These designs can either be thick or thin, decorated with pearls or flowers, and much more than one can ever think of. This article dives into the top mehandi designs for engagement.
Pick Your Favorite: 
One of the hardest things for a bride is probably to pick a mehndi design for herself on the engagement. And this gets even harder when there is a never-ending list of designs to pick from. But we have made this easy by picking out designs that will be the right fit for you on your engagement.
Here are a few ideas of top mehandi designs for engagement: 
Arabic countries are home to some of the most proficient mehndi designs that are still popular in the market. These are intricate and the perfect pick for almost all occasions, whether it is a festival or an engagement. Arabic designs usually cover both the front and the back of the hand and have various kinds of motifs that change as one moves from a particular point to another on the design. These designs are quite popular amongst artists for their free-flowing designs and are full of various flowers.
Engagement is the coming two harts and binding in the relation of lifelong love and togetherness. So what's better than a heart on your hand that shows your love to your better half. This particular design is made by designing half of a heart on the right hand and the other half on the left and then it is surrounded by various curls, feathers, and flowers to make it more eye-catching. Fingers are also covered by various spirals which only makes the design chicer and eye-catching. This design is widely known for engagements and other small functions.
Though you cannot dye the color of mehndi green you can definitely add more greenery to your engagement with this leafy mehndi design. This design consists of various sorts of leaves, curls, and other floral patterns that make it a fit for your engagement. Usually, this design covers both hands from elbow to fingers with thick lines which can be quite confusing but eye-catching at the same time. Some designers also make a few characters or lovers and sometimes add half ads which can be quite interesting. This design is quite well known for its contemporary and rustic feel.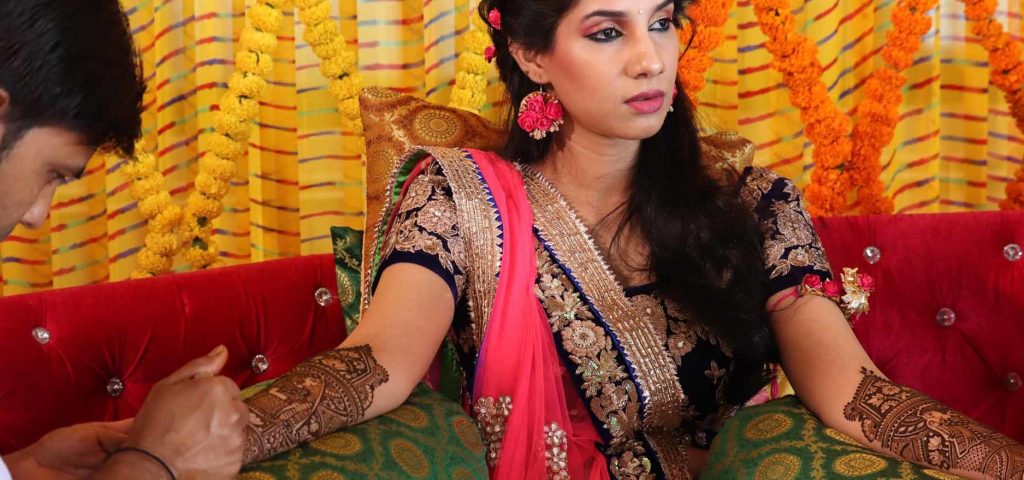 Sometimes it's a good idea to go minimalistic and a lot of people like getting those mehndi designs for their engagement which are quite simple and easy going. Kada design is known for its simplicity followed by extreme elegance. This design covers the hand, wrist, a little area above the wrist, and the fingers. Kada has only a few patterns that are linked to each other in the most intricate way possible and it does not seem heavy on hands. For this reason, this design is most preferred for the purpose of engagement and other small functions. Plus, another benefit of the design is that you do not have to put on bangles and it covers only a few fingers leaving the one for the beautiful engagement ring.
This is one of the mehndi designs you probably must have heard before. Popular amongst to-be brides, this design is perfect for your engagement and the right things to attract the eyes. It is also considered to be one of the oldest designs that still exists and in many cases, it has eliminated the customary patterns. This design consists of intricate floral designs on fingers and a peacock one on the center of the palm. It covers the entire palm and is usually for the front of the hand only. You can also look for popular mehndi artist in Delhi to get this one.
As the name itself suggests that this design covers your hand with flowers of various kinds that are a perfect eye-catcher and the perfect fit for your engagement. Not only has this design easy to make but it looks quite simple and elegant at the same time. This is usually considered a symbolism of beauty, love, peace, and fertility. There are various designs that fall under this category and each of them has its own significance and importance. More often than not these wedding mehndi designs are preferred for the back of your palm and cover only the area below your wrist.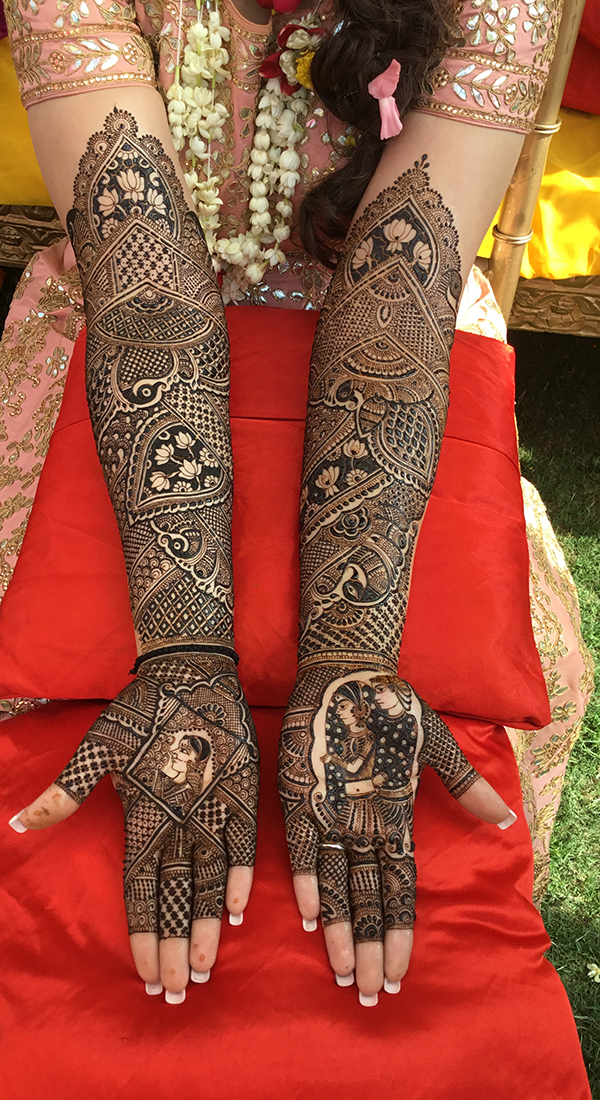 This is one of the latest trends in mehndi designs and is considered to be simple and elegant. This design became known as opposite to the traditional ones and is quite minimal both in the making and how it looks. The intriguing play of thick and thin designs is the characteristic feature of the design.
Now that you are aware of some of the top mehandi designs for engagement you might want to get started by picking your first. Make sure that you get waxed before getting any design and wash your hands well. And once the mehndi dries up, spray it with a blend of sugar water and lemon so that it stays for long.
Being the best bridal mehndi artist, our artists offer traditional and latest designs in the shortest time by using herbal products.
Contact us for bookings now!