The festive season is approaching! Are you having trouble choosing which mehndi design to wear? Check out this article to help you pick your mehndi designs for festivals. Mehndi is a good example of Indian tradition and culture. And we ladies adore applying mehndi to our arms, shoulders, and other body parts before any major event or festival, such as Dussehra, Karva Chauth, Diwali, and so on. In this article, we have listed a few mehndi designs that you can paint on your hands for this festive season. The designs mentioned below are not complex. We've given some simple and trendy eye-catching designs which can draw people's attraction. Come on! Pick your favorite mehndi designs for the festive season as same as you arrange your clothing and cosmetics.
Mehndi Design With Flower Patterns:
This mehndi pattern is just gorgeous! If you're seeking a straightforward mehndi design with a luxurious appearance for approaching festivals, you can try this one. The mix of floral themes and paisleys is amazing. To fully focus on the flower pattern, the motifs on the fingers have been kept plain. The use of shading has made this style of design more appealing. What a lovely, tidy, and simple mehndi design to beautify your festive look!
Visit: mehndi designs for karwa chauth
2. Mehndi Design With A Centerpiece: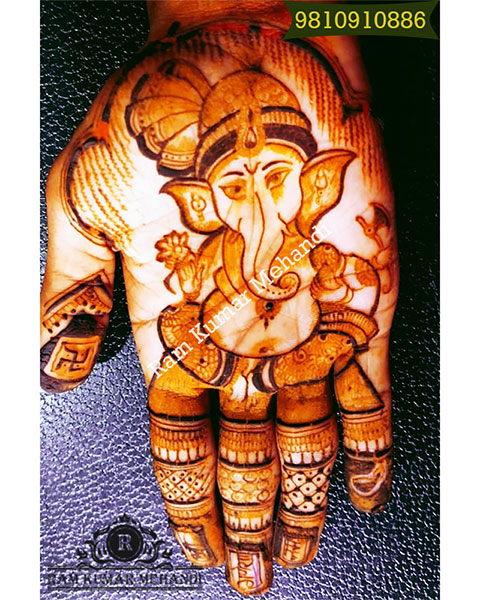 This type of mehndi design is a daring one for those who want to decorate the back of their hands. This mehndi design extends from the wrist region to the middle of the back of the palm. Paisleys and floral motifs make up the pattern for this design type. To focus on the centerpiece, the finger designs have been kept simple.
3. Mehndi Design With Abstract Pattern:
It is a plain yet lovely mehndi design that is appropriate for any celebration. The most striking aspect of this mehndi design is how abstract patterns were used and how cleverly they were filled in to give a richer appearance to the design. You can easily create this design and paint it in your hands.
4. Backhand Mehndi Design:
This lovely backhand mehndi design will glam up your festive appearance. This mehndi design, which is made up of paisleys and dome-shaped elements, resembles a piece of hand jewelry that is started from the wrist and ended with a stunning ring on the top of the middle finger. A dotted line links the ring to the other elements of the pattern. This fantastic layout will look great at any festival.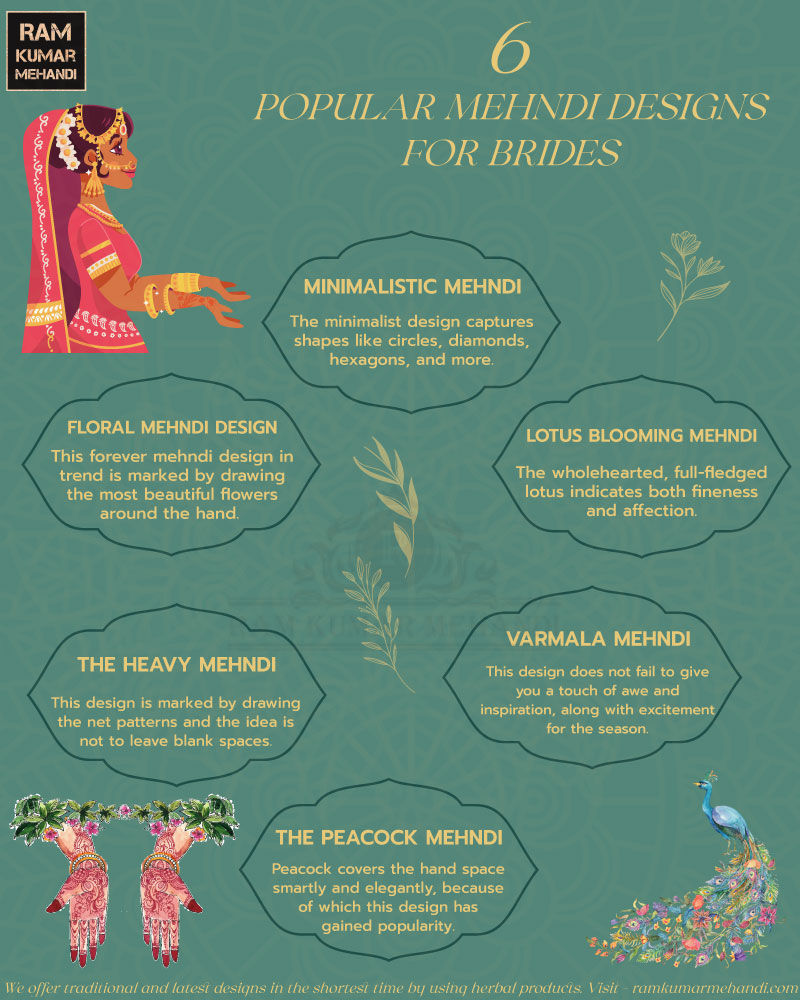 5. Arabic Style Mehndi Design:
This is a lovely mehndi pattern that may be applied to both adults and children during the festive season. This mehndi design, which consists of floral motifs and paisleys, appears to be a lovely floral strand that extends from the index finger to the wrist region. This is a neat, tidy, and crisp mehndi design that will boost your glam of the festive season.
6. Flower And Leaf Pattern Mehndi Design:
Here's another example of a mehndi design that's appropriate for both children and adults. This mehndi design is primarily concentrated on the back of the hand, with minimum finger designs. This mehndi design, which mostly consists of flower motifs and leafy designs, is a terrific method to cover the back of your palm.
7. Mehndi Design With Dots: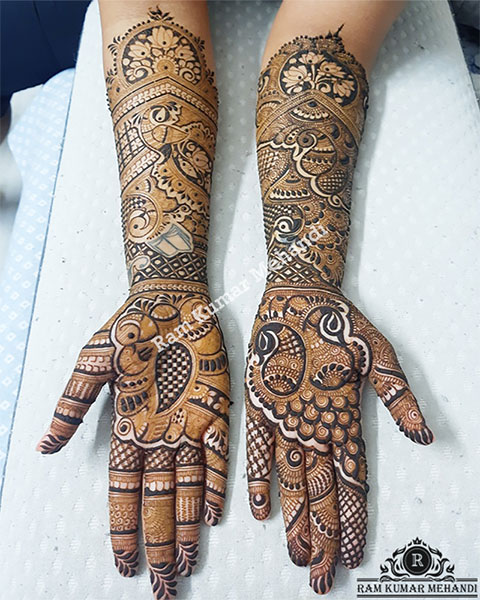 One of the most beautiful and trendy mehndi designs for festivals is design with dots. Here's another fantastic yet simple mehndi design to brighten your festive look and mood. Spiral strokes and flower designs make up the majority of this design. The smart use of dots gives a richer and fuller look to this design. As a continuation of the main mehndi design, the index finger could be elegantly decorated to give a spontaneous effect.
Visit: why organic mehndi for hands
8. Mehndi Design With Motifs:
Are you sick of trying paisleys and floral motifs for mehndi designs? Looking for something unique? Then give this design a chance! This is a modern and fashionable mehndi pattern that is simple to create. Semi-circular patterns are employed in this type of design. This specific mehndi design is an excellent illustration of how you can use simple motifs, like dots and leafy patterns, to produce a stunning design.
9. Mehndi Design With Mandala:
Any festival will look stunning with this lovely backhand mehndi design. The mandala, a circular pattern created using the shading technique, serves as the center of focus of this mehndi design. Additionally, the little details around the outline create an appealing appearance. In this design, the large mandala design looks great in contrast to the simple floral motifs on the fingers.
10. Half-hand Mehndi Design: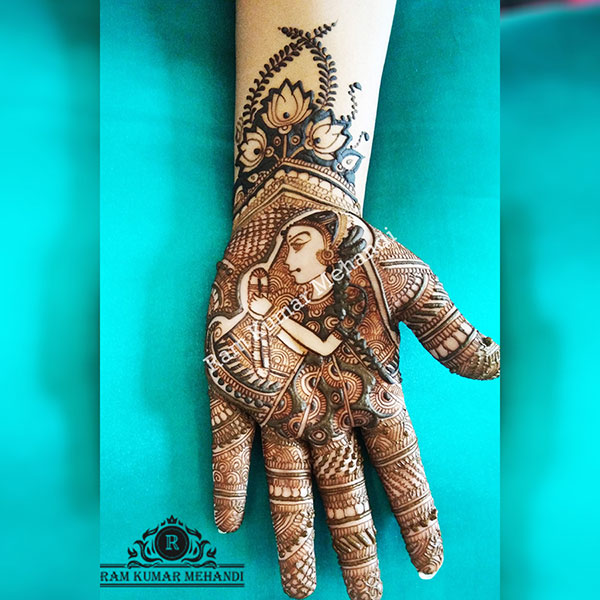 The half-full and half-empty design on this mehndi type looks very fascinating! The full side is made up of a complicated floral and leafy pattern with a few spirals to fill in the spaces, and the empty side is delicately embellished with tiny starry designs. Try out this mehndi design for upcoming festivals and watch how everyone comments on your hand's artistic work!
Visit: stylish foot mehndi designs
11. Mehndi Designs With Spirals And Motifs:
This mehndi design will look stunning with Indo-western attire if you plan to wear it for the upcoming festivals. This is a highly fashionable design that is simple to create. The pattern is divided into two parts by the lengthy spirals in the center. Both portions are filled with numerous spiral and little floral designs. Additionally, the dots and lines have been smartly positioned to make the design perfect. Being mehandi artist in delhi for more than 30 years, we recommend this design as the most beautiful one.
12. Traditional Mehndi Design: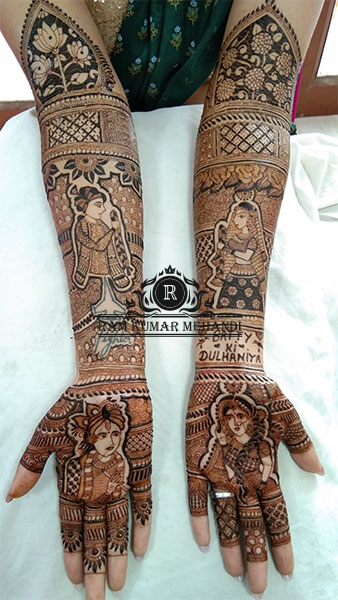 This is a conventional and easy mehndi design; this one will look lovely on everyone's hands. Traditional floral designs, paisleys, and loop motifs are the main components of this design, giving the appearance of a more comprehensive mehndi design. The pattern extends from the middle finger's tip to the rear of the wrist. Simple paisleys and dots have also been added to the remaining fingers to balance out the overall design.
13. Mehndi Design With A Large Flower: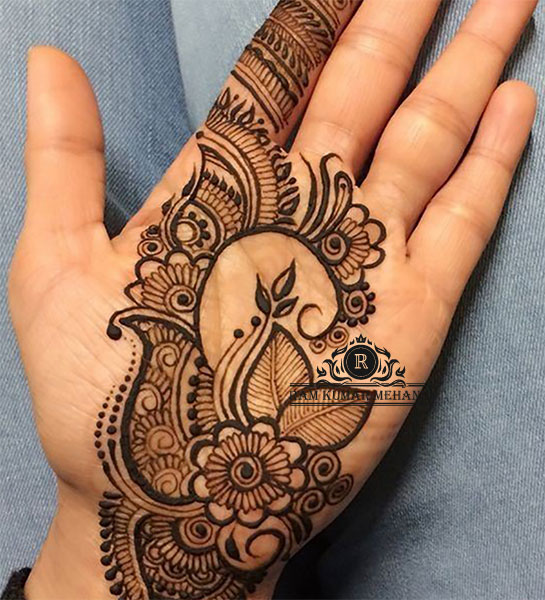 This mehndi pattern is gorgeous and perfect for festivals. Furthermore, it won't take much time because you won't need to use elaborated patterns or minute details. The huge flower that serves as the main focal point of this mehndi design is perfectly enhanced by paisleys, leafy patterns, and also the apt use of dots.
14. Mehndi design with a Checkered Pattern: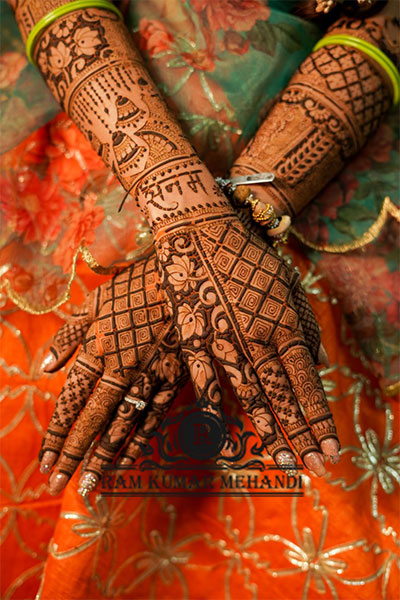 This backhand mehndi design replicates a lovely bracelet. This bracelet-type mehndi design makes clever use of the paisley and checkerboard patterns. The elegant bracelet pattern has been highlighted by the simple finger patterns. You should surely try this lovely and fashionable mehndi design during the upcoming festive season!
15. Mehndi design on the Wrist Area:
This is another bracelet-like mehndi design worth attempting during this festive season. Lines and dots were used to form the design on the wrist area, and little paisleys and spiral strokes were combined to produce the strand-like extension. This mehndi pattern is similar to a designer bridal mehndi pattern. This is simple to create and can be applied to both adults and children.
16. Semi-circular Pattern Mehndi Design:
This lovely Arabic mehndi pattern will brighten up your hands for the forthcoming festive season. In this design, long curves with simple flower designs have a refined and fashionable appearance. The semi-circular pattern on one side ensures that the hand does not appear vacant. Its elegance is further enhanced by the ring-like pattern on the index finger. This mehndi design features semi-circular patterns with intricate embellishments applied with delicacy! These gorgeous mehndi designs for festivals may undoubtedly increase your festive glam factor when worn with brightly colored nail polish.
Visit: royal groom mehndi designs
17. Mehndi Design with Dots and Lines: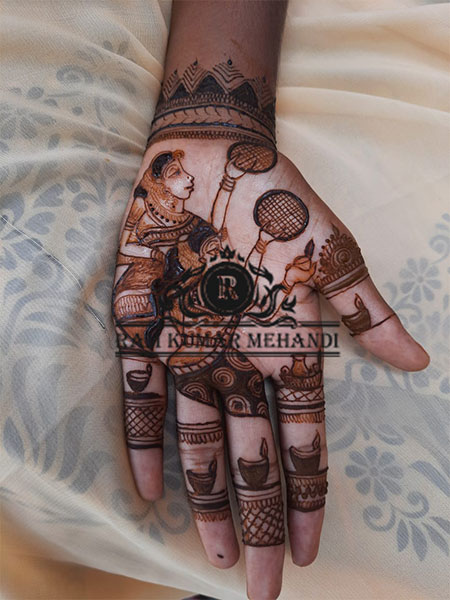 Choose this twig pattern mehndi design if you want to try something new from the typical flowers and paisleys. This is a very creative mehndi design that you could surely try during the upcoming festivals. This mehndi design is an ideal illustration of how a simple combination of dots and lines can result in stunning designs.
18. Mehndi Design on Both Hands: 
If you want to create a beautiful yet simple mehndi design, this design is a great option. Spiral strokes and paisley patterns are used in this design. Mostly, heart-shaped patterns are used in this type of mehndi design. Even though it appears that both hands have the same pattern on them, there are minor differences that can't be seen.
19. Half-flower Mehndi design:
For the festival season, here is another amazing and stunning mehndi design, consisting of spiral strokes, half-flowers, and paisley patterns. This mehndi design looks great on the palm. Additionally, this design has been given extra charm by the fishnet work on the tips of the fingers.
Visit: best finger mehndi designs
20. Mehndi design with Interlinked Rhombi: 
Compared to the other mehndi designs, this one is extremely distinctive. The center of this mehndi design consists of three interconnected rhombi. This mehndi design has been smartly balanced by the ring patterns and a single rhombus on the finger.
Hope these mehndi designs for festivals inspire you to start the festive season! What are you still waiting for? Simply glam up your festive season by looking gorgeous and adorned with the right mehndi design! Enjoy your celebration!
You can contact us for wedding mehndi designs and other occasions!