Ladies, Karwa Chauth is near, which means it's time to paint your hands and feet with lovely henna curls and swirls. To acquire the best design painted on your hands and feet, it is indeed time to stalk your neighborhood mehndi artists or even hire a well-known one. Who wouldn't want to look their best on Karwa Chauth, a holiday during which women observe a fast in hopes of prolonging the lives of their husbands? Don't worry if you're having trouble deciding on mehndi designs for Karwa Chauth. We present to you some of the most well-liked mehndi patterns of this season, including Arabic, Indo-Arabic/Pakistani, Moroccan, sparkle, and multicolored patterns. Consider the options and select the ideal mehndi design for your special day.
Karwa Chauth: 
In Northern India, the Karwa Chauth festival is extremely important to all married Hindu women. The festival of Karwa Chauth, which is primarily observed by Hindus, honors the unbreakable bond between a husband and wife. Married ladies pray for their husband's long life and well-being on Karva Chauth, a holiday that occurs 10 days following Dussehra. Women only eat or drink after presenting Arghya to the Moon with an earthen pot called Karva, making it one of the most difficult fasts. In the northern states, especially Punjab, Haryana, Rajasthan, Uttarakhand, Himachal Pradesh, Chhattisgarh, Madhya Pradesh, and Gujarat, the yearly Karwa Chauth celebration is very important.
According to the Hindu calendar, it occurs every year on the fourth day following the full moon day, or Purnima, of the Kartika month. This year, in 2022, Karwa Chauth will be celebrated on October 13.
Married women conduct a fast from sunrise to moonrise on this one-day event in hopes of ensuring their husbands' long life and safety. They dress up in conventional attires and decorate themselves like they were married just yesterday. However, women also cover their hands with beautiful henna designs, which are more of a custom than anything else, in addition to jewelry and stunning gowns. Working as a mehandi artist in Delhi for more than 20 years have your henna decorated and glittered for this Karwa Chauth. Let's go through the various mehndi designs now.
Mehndi Designs for Karwa Chauth:
Indian mehndi designs:
Indian mehndi designs consist of intricately painted peacocks, flowers, paisleys, swirly patterns, and other complicated patterns on your hands and feet. The stunning attractiveness of the magnificent artwork is overwhelming. Although applying Indian-style henna to your hands and feet takes a lot of patience because it takes hours to produce, the results are well worth the effort.
Arabic mehndi designs
These Arabic mehndi designs, which include the pattern of leaves, vines, flowers, etc., are thick and dense. In contrast to Indian mehndi art, it is not filled. Instead, attention is drawn to how thick the ornamental edges that partially encircle your hands and feet are. The advantage is that making such designs requires less time, and as a result, they dry quickly.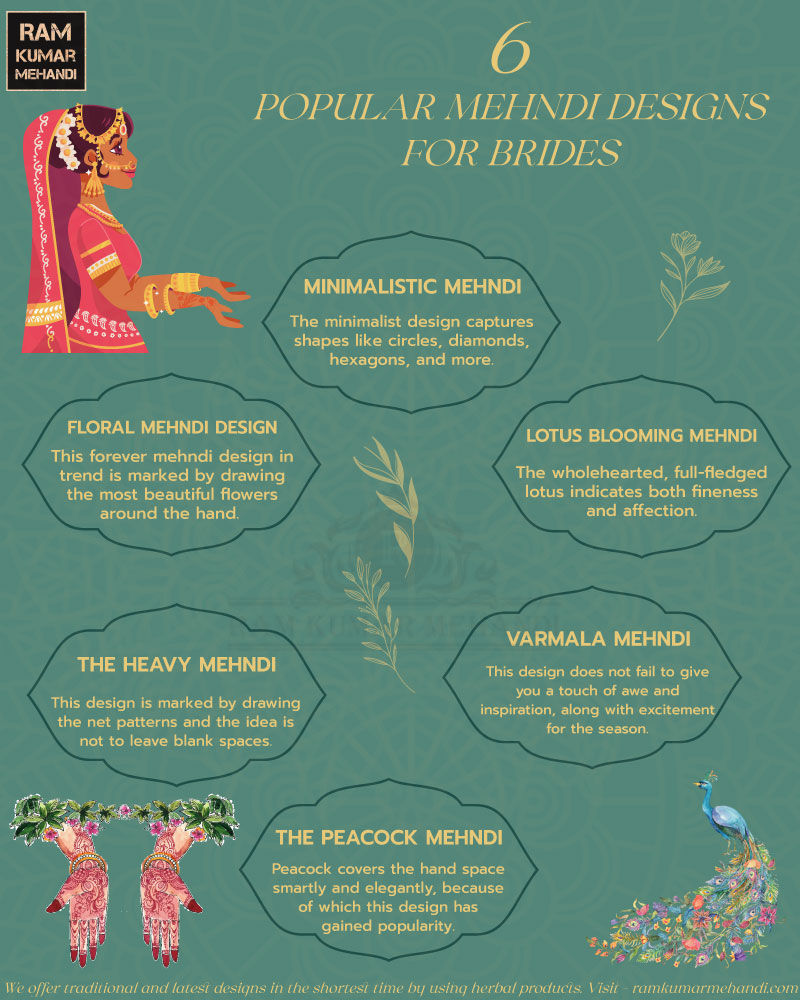 2. Indo-Arabic/Pakistani designs:
The mehndi patterns from the other side of the border, i.e., Pakistan, are more akin to Indo-Arabic mixed patterns. In this design, there are bold Arabic outlines packed with beautiful traditional Indian patterns.
Visit: best finger mehndi designs
3. Floral mehndi designs: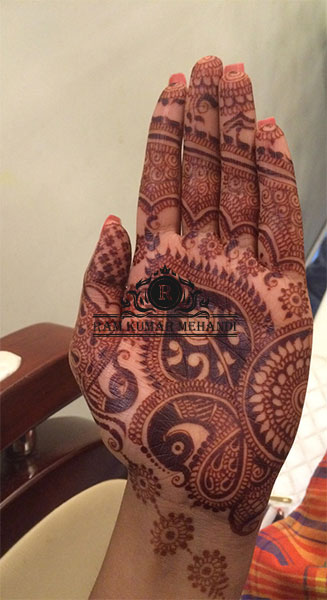 Have you ever come across something that doesn't go well with flowers? Your henna-covered hands and feet are also not an exception. The best part is that these flower patterns go great with any style of design, whether it be sparkly, multicolored, wedding, or anything else.
4. Bangle-style mehndi designs:
Who needs bangles when they can have henna tattoos of them on their arms? You can make your hands and feet seem stunning with this additional lovely mehndi pattern!
5. African/Moroccan mehndi designs:
Middle Eastern mehndi art is primarily composed of geometric shapes like lines, squares, and dots. This style of mehndi design is for you if you wish to depart from swirly patterns.
Visit: why organic mehndi for hands
6. Rajasthani mehndi designs:
Mehndi art from Rajasthan or Marwar is so meticulously crafted that it leaves no space. Peacocks, flowers, curved patterns, and intricate lines running from the tips of your hands to your elbows and from the tips of your toes to your knees are all quite popular right now.
7. Mughal mehndi designs:
It is one of the most ancient and classic mehndi designs. It is well known for its distinctive and intricate design. Like its namesake, this Mughal pattern is equally as rich in culture. It features significant curls and dots that create slanting patterns on your arms and legs in the shapes of flowers, domes, leaves, petals, etc.
8. Minimal mehndi designs:
It is one of the newest mehndi trends right now, especially for contemporary women who like to try something new but straightforward. It complements both Indian and Western attire fairly well. For people who don't like to paint their hands totally or don't like having their hands covered in henna enough, these simple designs are simple to apply and carry. Bold patterns with delicate patterns will look beautiful on your hands. The patterns can also be embellished with vibrant stones. Ladies, we assure you that your spouse would be fixated on your hands at all times!
9. Heavy bridal mehndi designs:
For all the wonderful brides-to-be getting married close to Karwa Chauth, you have every right to receive the renowned bridal mehndi, which is adorned with floral, paisley, and other designs. The tips of your fingers and toes, as well as the tops of your elbows and knees, are covered with these bridal mehndi designs. Being the best bridal mehndi artist, we offer customized mehndi designs for special occasions.
Visit: stylish foot mehndi designs
10. Unique mehndi designs: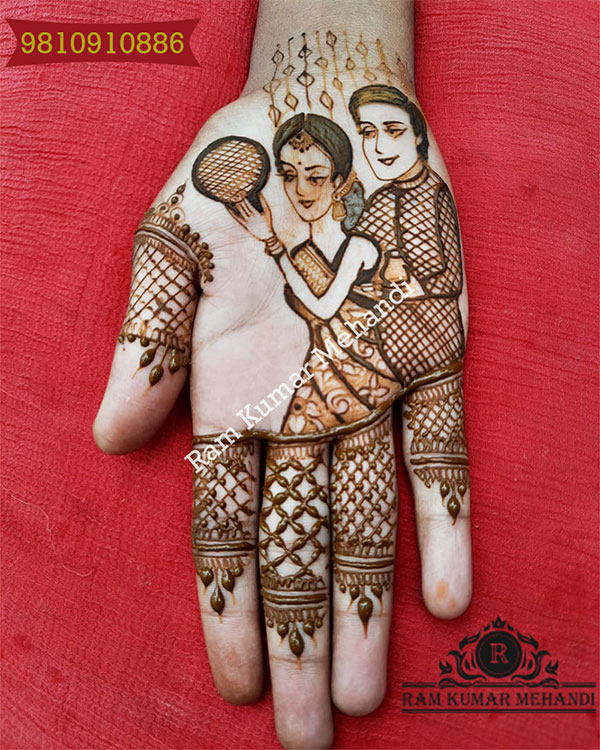 You can choose some unusual and out-of-the-box mehndi designs, especially during Karwa Chauth, if you don't want to go overboard or traditional with your henna application. There are several options available to you, ranging from having your partner's initials or designs inspired by Karwa Chauth to more elaborate designs. You can incorporate Indian, Rajasthani, Arabic, and other patterns into these designs without making them completely traditional.
So, ladies, get ready to impress your better half with these pretty mehndi designs for Karwa Chauth. You must, after all, shine brighter that night than the moon! Have a wonderful Karwa Chauth!
Why Ram Kumar Mehandi for Your Karwa Chauth Mehndi? 
We use Organic Mehndi
In the Industry for more than 30 Years
Apply the Trendy and Most Beautiful Mehndi designs
Our Mehndi Artists are Professional and Work as Per your Needs
For more details, contact us now!