Mehndi, well-known as henna across the globe, has been an important part of Indian weddings since the ancient period. Both bride and groom sketch their hands and legs with a thick paste obtained out of dried henna leaves as it is believed to bring good luck. For a very long time, women in India have been beautifying their palms with Mehndi designs not only at weddings but also at various other auspicious festivities and celebrations. Hence, this list of front hand mehndi designs with the best and most up-to-date mehndi designs will help you woo off the quarantine blues. Making complex front hand designs with henna will not only help you get over your time but also give you key artistic ideas. So, what is stopping you from it? Scroll down to discover the greatest top 10 designs that would fit any occasion.
Front Mehndi Designs
1. Paisleys and floral front hand mehndi designs:
Get the ideas you need from these fabulous mehndi designs. Easy and flowy, these are the embodiment of the best mehndi design. These mehndi designs include a lot of paisleys and floral motifs added in with the usual leafy and geometric patterns. Mix and match all these patterns and fill up your hands with vibrant colors.
2. Swirly front hand mehndi design:
Add up a little swirl in several places and have your mehndi design appear out of this world. Do not ignore the use of thin strokes as compared to thick ones because thin lines often deliver a better finish to these front hand designs. This front complete hand mehndi design also consists of the applications of paisleys to emphasize the swirls even more.
Visit: back hand mehndi designs
3. Simple mandala front hand mehndi design:
Simple yet beautiful, this mehndi design shows off a full Mandala drawn intricately right in the center of your palm on the front and the back of the hand alike. Sketching a mandala might look hard. But the being the best mehndi artist in Delhi, we have found a solution to this problem. All you require is a bangle and you are good to proceed. This bangle will assist you to make the outer circumference of the Mandala and once that is done, your Mandala design will be all ready to beautify your hand.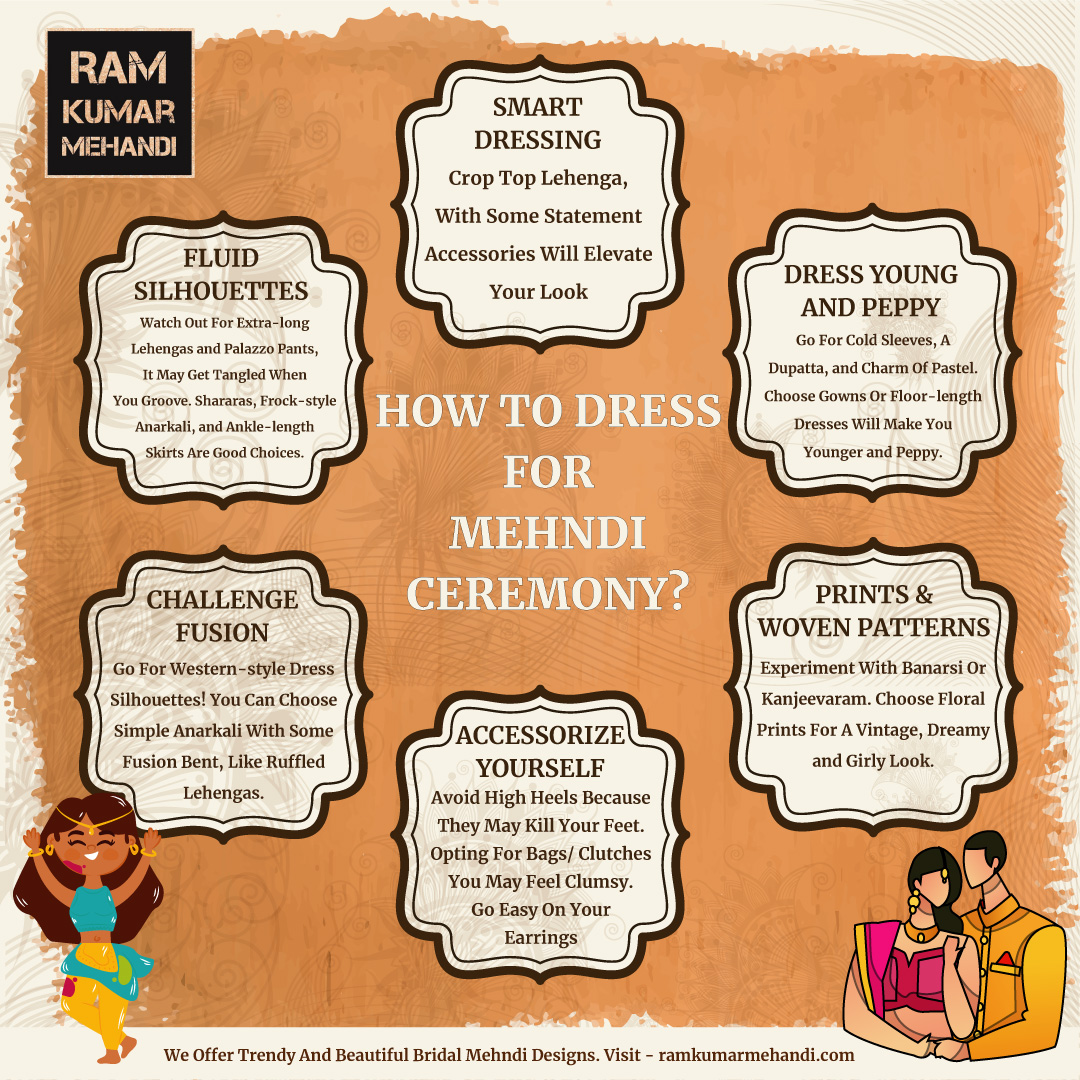 4. Bridal front hand mehndi design:
If you wish to have a detailed and meticulous full hand mehndi design this one is the correct option for you. It consists of several patterns and details that combine to make an impressive front hand mehndi design. Observe the palm which is drawn with a design of a raja and rani waiting to tie the nuptial knot. This design requires a lot of swirls, paisleys, and much more to make such a design a work of art.
Visit: best mehndi designs for legs
5. Peacock Front Hand Mehndi Design: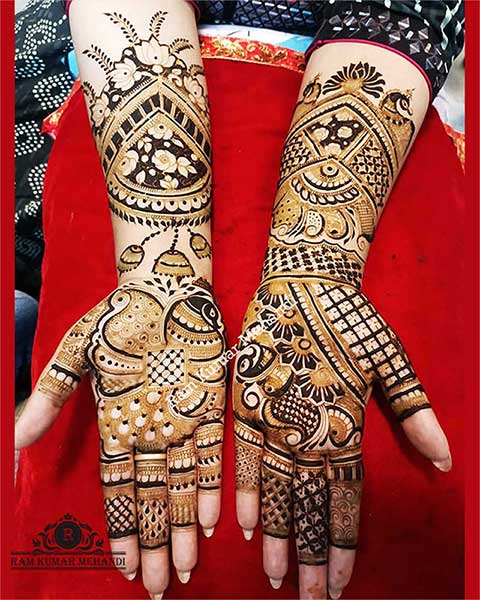 Peacock is not just the national bird of India, a peacock has much more important than that. The peacock depicts protection and is drawn in the front-hand since the time we can't even imagine. This mehndi design highlights two huge peacock shapes right in the palm. The motifs go together with quite a lot of other complicated patterns that complete this front hand mehndi design.
6. Heart front hand mehndi design:
Including the whole front hand in detailed and beautiful patterns, this mehndi design is a stunning take on all the Mehndi designs. The gorgeous mehndi designs reveal multiple hearts and if you observe closely, you would find this mehndi design is occupied with various things that make a vital part of a wedding ceremony.
7. Symmetrical front hand mehndi design:
This is for sure so pleasing to the eyes that we wanted to put it on our list. The right-hand design is exactly similar to the left-hand design. The palm of the front hand includes numerous minute designs of florals that are clubbed together very close to one another. The mehndi also includes a lot of paisleys, jaali designs, and much more.
Visit: why organic mehndi for hands
8. Customized front hand mehndi design:
One can customize a front hand mehndi design according to their wish like this eye-catching mehndi design we discussed right here. At the end of this mehndi design, you can ask your bridal mehndi artist to incorporate the skyline of a city to fit perfectly in the hand of the bride. While the rest of the Mehndi design is pretty basic, the skyline is the highlight of this alluring front hand Mehndi design.
9. Beautiful front hand mehndi design:
How stunning this front whole hand Mehndi design could look on your pretty hands? The design is created expertly with the help of thick and thin strokes that give this design a more attractive look. The end of the mehndi design contains a beautiful bouquet of floral patterns that we literally cannot pass through. Also, you can draw an intricately made heart with the bride inside it.
10. Festive front hand mehndi design:
A Mehndi design that is flawlessly matched for a festive celebration, this mehndi design is all effects bright and vibrant. The front hand mehndi design can be made using a lot of paisleys, jaali designs, and the work of gorgeous clean, vacant spaces.
Visit: mehndi songs for grooms
There are a few beautiful designs that you can attempt through this article. Mehndi, in addition, represents auspiciousness and sums up your charm. If you are searching for front hand mehndi designs, don't panic! We have listed a collection of amazing mehndi designs that are easy to apply but at the same time incredibly gorgeous. In this article, do try these numerous simple front hand henna designs that you can flaunt on many occasions.
Why Ram Kumar Mehandi? 
Experience as Mehandi Artist for more than 30 years
Use of Organic Mehndi
Latest and Trendy Mehndi Designs
Unique Mehndi Designs
Team of Professional Mehandi Artists
For bookings, contact us now!